Plaid Cymru's leadership election is by far the most important development in recent decades for the party and quite possibly Welsh politics overall since devolution.
Indeed, it has been a year of internal party campaigns in Wales.
First up the Welsh Lib Dems, with Jane Dodd elected leader on an approximately 33% turnout of a 3,000 membership. A sad commentary on a party that has been for several years now struggling desperately to make any meaningful impact on the Welsh political landscape—unless you consider its lone AM Kirsty Williams's participation in the Welsh Labour government cabinet, distributing Labour budget monies.
Then UKIP Wales, a party in turmoil not only in Wales but across the UK for a couple of years, elected Gareth Bennett on a 60% turnout of its 900 members.
This week, on a 52% turnout, Paul Davies was confirmed as the Welsh Conservatives new leader. Intriguingly the party did not divulge the number of votes cast for the two candidates—I suspect it did not want to reveal the low number of party members in Wales.
Before the end of 2018 Welsh Labour will also elect a new leader, deciding soon whether it will dare to be democratic enough to move towards a one-member one-vote method of internal election. It is hard to believe that the question of one-member one-vote was one of the reasons why the SDP was formed in 1981! Labour has around 100,000 individual and affiliate members in Wales.
Two candidates have been declared, but the party would definitely benefit from a wider choice and certainly if the experienced Eluned Morgan and Huw Irranca-Davies were on the ballot paper too. But Welsh Labour has a unique and special way of arriving at the 'right' result its party power-brokers wish.
Now let's discuss the most important election ongoing—that is the Plaid Cymru leadership contest. I say it's the most important because Welsh politics needs reinvigorating, if not reawakening, and whilst I would dearly love to see the Welsh Lib Dems rise from their slumber, it is clearly apparent that central to the task of improving political democracy in Wales today is a more vibrant, inclusive Plaid Cymru.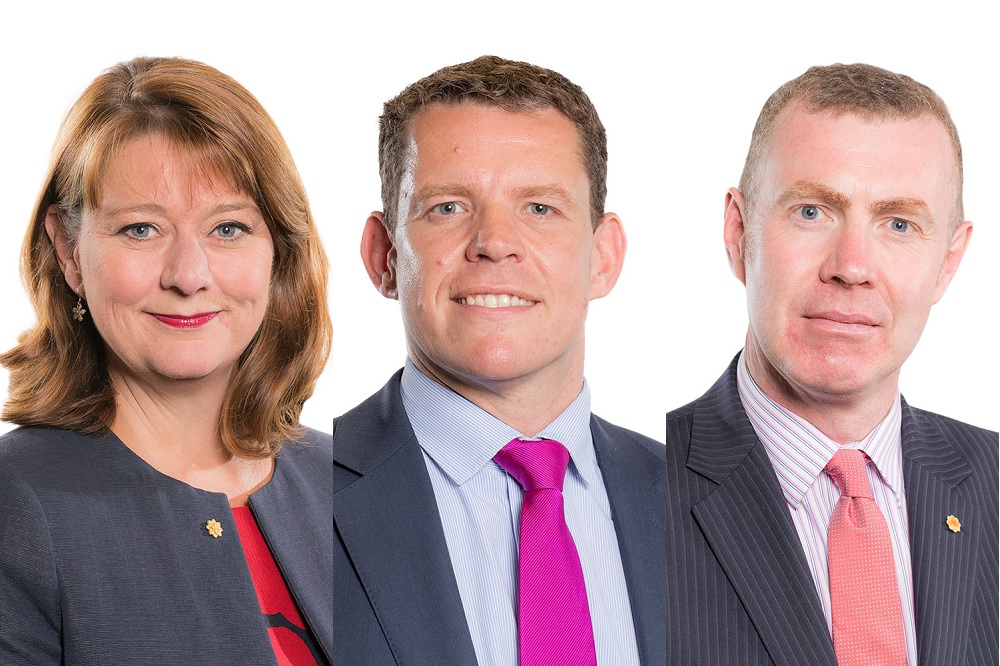 There are three strong candidates, each with strengths and weaknesses.
Leanne Wood, the incumbent since 2012 has had highs and lows. In the televised leaders' hustings for the 2015 General Election she was effective enough and her Assembly victory in the Rhondda was impressive. But my strong hunch is that she has reached a point that confronts every leader in time—Leanne could well be past her political 'sell by' date. Even the policies she espouses hark to a different era, closer to my youth in over-centralised Britain rather than devolved Wales!
Then there is Adam Price, AM since 2016, but an MP in 2001 and for some reason unexplained and difficult to fathom stood down for the 2010 General Election. Maybe someone can shed a little light on this? He too has many strengths, being a strong performer, knowing how to catch the headlines and a deep thinker generally. But he is prone to shooting often from the hip with little strategy in mind—in Boris Johnson scattergun style.
Finally the new kid on the block, Rhun ap Iorwerth, who holds a range of media and other professional experiences before being elected as an AM in 2013. He is certainly an effective communicator and policy developer, with the ability to appeal to a wider audience beyond the present Plaid Cymru voter-base. Rhun is quite likely a more inclusive politician who would increase Plaid Cymru's membership from its current low point of about 8,000—incidentally, at a time when the SNP has over 125,000 members!
Now I am not a Plaid Cymru member but if I were, these are some of the key questions that I would be asking myself:
1. Which one of the three would be a clear break with the past, including the hard left 'socialist experiment' propagated by Leanne and Adam? Remember Adam's famous statement 'I was a socialist before becoming a nationalist'. It is apparent to me that their politics are rather similar and intertwined. Rhun also clearly has values of the left, but appears to have a broader base to his politics.
2. Is continuing with 'Labour lite' policies the way forward? This has seen the party more or less stagnate. With a Corbyn-led Labour party, Plaid Cymru will struggle to take votes from them across Wales. The last General and Assembly elections clearly illustrated the point—Labour came within less than a 100 votes of capturing the Arfon seat, desperately held onto by Hywel Williams MP, just.
3. How does Plaid Cymru break out from the greater cycle it has been trapped since 1974? Then it received 174K votes for Westminster elections, waiting until 2001 to achieve its highest support of 195K, before sliding downwards—apart from a modest improvement in 2015 (181K). In terms of percentage of votes in Wales, Plaid Cymru received its first significant outcome in 1970 (11.5%), thereafter struggling throughout the 1980s, then achieving its best performance in 2005 (12.6%), and declining to 10.4% in 2017.
For the Senedd, its best year by some distance was 1999, seventeen AMs with roughly 28% of the vote. 2007 witnessed a good recovery under Ieuan Wyn Jones, but by 2016 its share of the vote was 20% and with only twelve AMs elected—two of which are no longer officially in the party!
4. How does the party address the 'independence' question? Something in truth it has avoided since the days of Gwynfor Evans. I'll return to this again.
5. And finally, which one of the three candidates will represent 'clear and much needed change' with the ability to reach out to a much wider audience? It is indeed time for a more inclusive style of politics in Wales with a radical and reforming agenda.
I venture to suggest that the only leadership candidate who fits the bill is Rhun ap Iorwerth and its a politics I and others like me may even be attracted to.